Galaxy of Stars
by Janet Caudle
Galaxy of Stars Collection
First released in October 2021. Starring Midnight Starlet & Silver Starlet! Made from a beautiful stiff star & moon overlay tulle, silver satin lame', and taffeta fabrics. Crowns are made from a glittered canvas. Also for your consideration are matching silver glittered mask. Midnight Masquerade & Silver Masquerade. Your little lady can play princess during the day and then attend the Masquerade Balls at night.
Planning to add more gown sets to this collection, like a Scarlet Starlet, and others throughout the coming year. Hope you like them as much as I loved making them. Have fun!
_________________________
Coming soon!! 6th & 7th in the Galaxy of Stars series.
"Cherry Starlet & Lemon Starlet"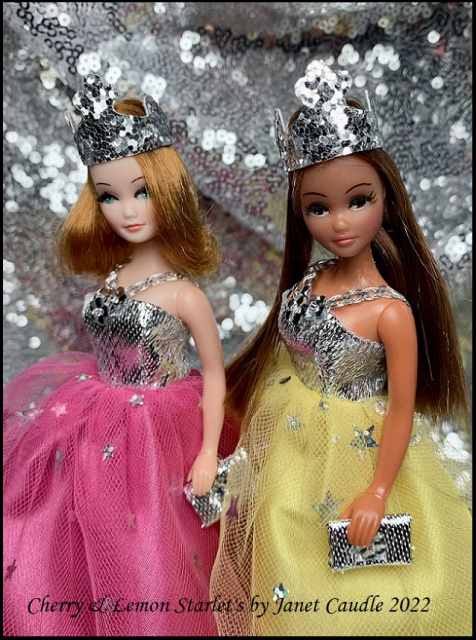 Releasing Saturday, October 1st, 2022 at 12pm (CDT) Central Texas time.
On the "Fashion Avenue Boutique" page.
Mask for Laurel Rose, Purple & Cherry gown sets will be available at a later date.
At this time no plans for a yellow or aqua mask due to no matching feathers.
A peek at the 8th Starlet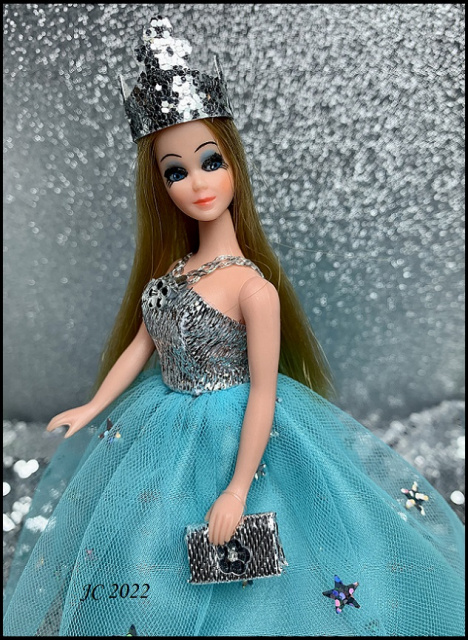 Janet's One of a Kind dolls and custom fashions have no affiliation with any doll or toy manufacturing company. Copyright 1999-2023. Janet Caudle owner. This site is not to be copied, reproduced, used or taken without the express written permission of the owner. Barbie is a registered trademark of Mattel and Dawn is a registered trademark of Checkerboard Toys.