Fashion Avenue
By Janet Caudle
This "Fashion Avenue" page is where you can find some of latest fashion collection releases.
FYI: To all Collectors! As you all know my fashions are very limited, and from time to time some fashions are more limited then others. We need some restrictions to make sure everyone has a chance.
Please, just one set, per collector, & than you can request to be placed on the wait list for an extra set. I will always do my best to make extra's when requested. Thanks for understanding. Love, Janet
___________
Newly Released!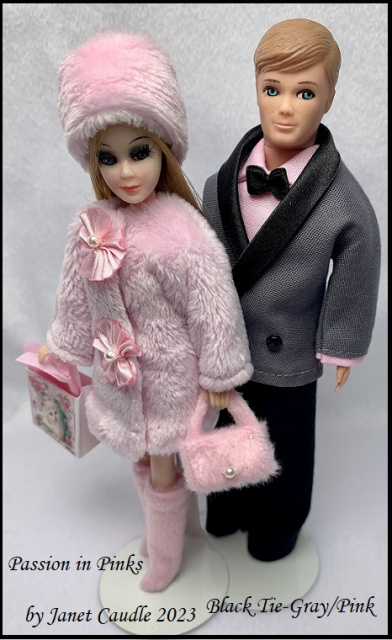 Many a million for an awesome showing!
Waiting list only for the above sets.
"Passion in Pinks & Black Tie-Gray/Pink"
____________________________________________
Monday, May 15th 6pm. Great news!! All the fashion sets have been shipped. Yahoo!!
Be on the lookout for them!
Enjoy the rest of your Monday, & have a Fabulous week!!
Lots of love & hugs, Janet xoxo
________________________________________
Sunday, 11:15am. May 15th, 2023. Update: Okay, so I do not know what the heck I was thinking or doing! LOL!! For some reason, I was thinking "Passion for Pinks." However, my labels & description reads "Passion in Pinks." But my photos & my writings read "Passion for Pinks." LOL!! Nevertheless, the official fashion name is "Passion in Pinks." LOL!
Have a beautiful day!! And, Happy Mother's Day to all the moms!
__________________________________
Sending prayers around the world for those whose health is compromised by health issues. For those who suffer from the economic impacts. For healthcare workers, first responders, and other public servants who put themselves in harm's way for us. And, for our families & our friends.
May God Bless you & keep you safe.
Love always, Janet
Thank you all for keeping me busy, especially during these most critical & changeling times.
I pray that God keeps you & your loved ones safe & healthy.
Love always, Janet
Hand-painted dots on chocolate ribbon bow. Halter style bodice strap.
Sunflower n' the Bumblebee
Celebrating Dawn's 50th in "Golden Celebration."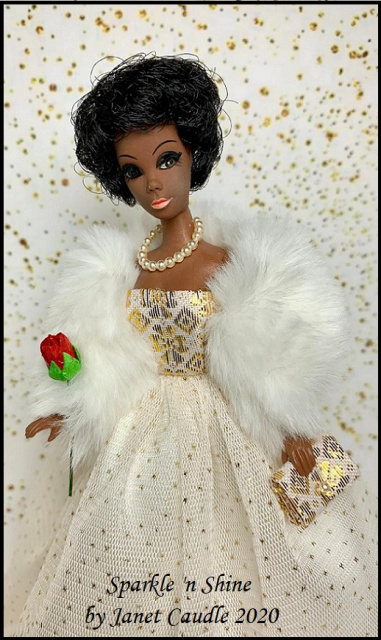 Sparkle 'n Shine & Sweet Champagne
Let me start off this new year in celebration of Dawn's 50th Anniversary. Throughout this year I will feature several fashions in celebration of Dawn's 50th year. And, in colors of gold, ivory, caramel & champagne colors. The fashion packaging featuring this commemoration will be decorated with 50th golden stickers too. Here's a look at the 1st two elegant gown sets to start this celebration!!
Snow Ruby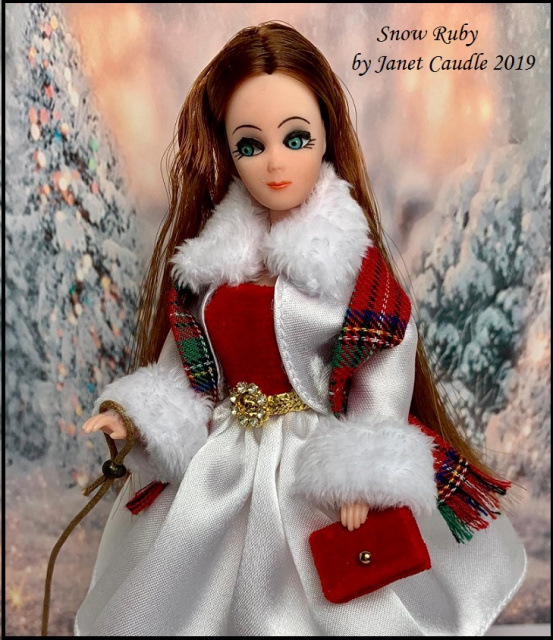 Snow Ruby is a 4 piece fashion dress set made from white satin, rare red cotton velvet fabric, white Minky fur, with plaid brushed cotton fabric from Scotland.
Little "Jingles" the pooch is not included. She was created by Peggy Coleman.
You can contact Peggy at pecbonita62@gmail.com for all your pooch needs. xoxo
Using this Longlocks as a model is in memory of one of my dear friends Melanie Milling 1964-2014. Many of you knew Melanie. She was truly a very gifted and talented artist/crafter. Longlocks was her favorite Dawn doll. When I was creating this fashion, I knew she would have loved for me to use this Longlocks to model it.
Love always, Janet
_________________________________________________________________
"Holiday Shopper 2019"
SOLD OUT! Thank you!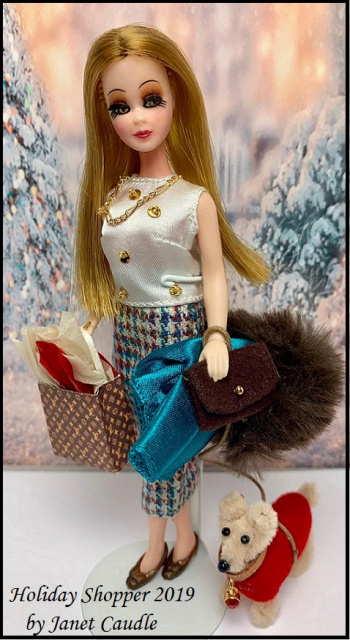 The beautiful Dawn repaint by the late Bill Schneider.
My 2 Pooches, Coco (large brown pooch) and Jingles (small red coated pooch)
were created by Peggy Coleman.
You can contact Peggy at pecbonita62@gmail.com for all your pooch needs. xoxo
Later this month look of "Snow Ruby."
____________________________________________________
12:55pm Tuesday, Update to the Holiday Shopper! It has sold out, and the waiting list is full too. I will continue to add names to the wait list just encase someone is no longer interested in this fashion when I have it completed & ready to ship.
I want to thank everyone from the bottom heart! Thank you so much for all your support!
xoxoxo
7:30pm Tuesday, evening update! Well, I have all the fashions packed and ready to ship out tomorrow. YAY!! You all should have received your tracking email by now. Sorry, I haven't been able to get to all the email tonight. Promise to finish them up in the morning.
Wishing you a good night! Chat more tomorrow! Thanks again! xoxoxo
FYI: Please know that I only had enough supplies to make an extra 23 fashion suit sets, I'm hoping for 25. Sorry I wasn't able to fill all the waiting list request.
______________________________
Thursday morning, update! Great news! All the "Holiday Shopper" fashion suit sets were shipped out yesterday. YAY! So be on the lookout for them! I'm off to get my home ready for the holidays, and then I'll be back here to work. "Snow Ruby" will be this years holiday set. More info to come...
Much love to all & may your holiday season be
Merry, Blessed & Bright!!
Janet xoxo
_____________________
Breaking NEWS! "Sapphires n' Snowflakes," 4 piece fashion dress set releasing below on Friday, September 27th at 3:00PM central (Texas) time.
Update: 5pm (Friday) WOW! Thank you all so much for being here this afternoon & for your wonderful support! I was told we sold out in a flash! I have started a waiting list and I'll start on them when I return from the Dawn convention.
I just can't wait to see everyone & share in all the dolly fun next week!!! My little sister Michele will be flying into California too to visit with me and share in some of the Dawn events too!!!
Again, thank you all for a fun afternoon! I start the packing process tomorrow (Saturday) morning.
If anyone needs a jewelry set to go with there outfit I do have some leftover that I pulled from the inventory. I can send you a separate PayPal invoice for just the jewelry without the extra shipping amount attached.
Wishing y'all a great evening! I'm off to start dinner & give my eyes a rest! xoxoxo
___________________________
Saturday morning, September 28th update!
Good morning! I've been working on the shipping labels this morning. If you've placed an order you should be receiving your tracking notices shortly.
Wishing y'all a great Saturday! I'm off to begin the packing process.
Be back later! Much love, Janet xoxo
______________________
Saturday evening update!!! Great NEWS!!!
I was able to get all the fashions packed & shipped today!! YAY!!!
So be on the lookout for yours!!
Thank y'all so very much!
Chat more soon! See some of you at the Dawn doll convention next week.
Lots of love, Janet xoxo
Lady in Pink & Sweet Dreams 2019
___________
A Classic Mystery Noir Collection 2019
Meet Lady of Mystery & The Black Onyx by Janet Caudle.

Janet's One of a Kind dolls and custom fashions have no affiliation with any doll or toy manufacturing company. Copyright 1999-2023. Janet Caudle owner. This site is not to be copied, reproduced, used or taken without the express written permission of the owner. Barbie is a registered trademark of Mattel and Dawn is a registered trademark of Checkerboard Toys.