"Where the Beauty of Elegance Begins"
August 28th, 2016. Happy Sunday! I have a few new things to add to the Midnight Madness page. Not today, not tomorrow.... but very soon! HA!
Stay tuned! Enjoy your Sunday!! See you soon! xoxo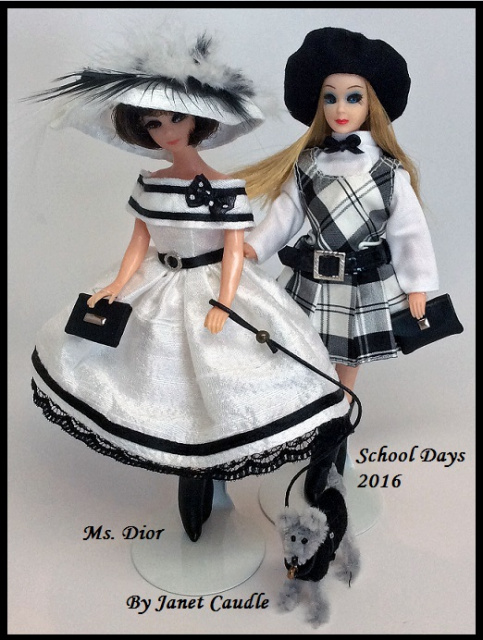 "Ms. Dior & School Days 2016"
by Janet Caudle
Poodle in photo is one of Peg's Pooches! If you'd like a poodle of your own, just contact Peggy. Here's her email address: pecbonita@comcast.net
_________________
Welcome to my little world of original custom fashions for our 6-1/2" vintage Dawn and Pippa dolls. Here you will find top quality fashions created by me, Janet Caudle. This site was created and dedicated to my family and to all my friends I have met along the way. Thank you all for your continued support for my workmanship.
With Love, Janet
Email: janetsdolls@janetsdolls.com

Janet's One of a Kind dolls and custom fashions have no affiliation with any doll or toy manufacturing company. Copyright 1999-2016. Janet Caudle owner. This site is not to be copied, reproduced, used or taken without the express written permission of the owner. Barbie is a registered trademark of Mattel and Dawn is a registered trademark of Checkerboard Toys.