Fashion Avenue
By Janet Caudle
This "Fashion Avenue" page is where you can find some of latest fashion collection releases. You can also checkout the "Unexpected Fashion Sales," page for more fashion releases.
A Classic Mystery Noir Collection 2019
Monday morning 9:15am update. All fashion sets have sold out!
Thank you very much! I will begin packing them for shipping. If you missed out for any reason and you'd like either of these fashion sets, please email me and I will begin creating them for you starting this Wednesday.
Have a great day! Lots of love, Janet
Monday morning. 10:40am update! Hopefully I have replied to all your emails. I'm off to start pulling fashion orders!! Be back soon with more updates!
Tuesday, March 19th. 4PM. Good day! Happy Tuesday everyone! Wanted to let you know that I dropped off all the packages at the USPS this morning, however the tracking is still showing the USPS is still waiting on my packages. <---Janet rolling her eyes! LOL!!
Thank you so much for everything! Have fun & enjoy your evening! Post more tomorrow!
Love, Janet xxoo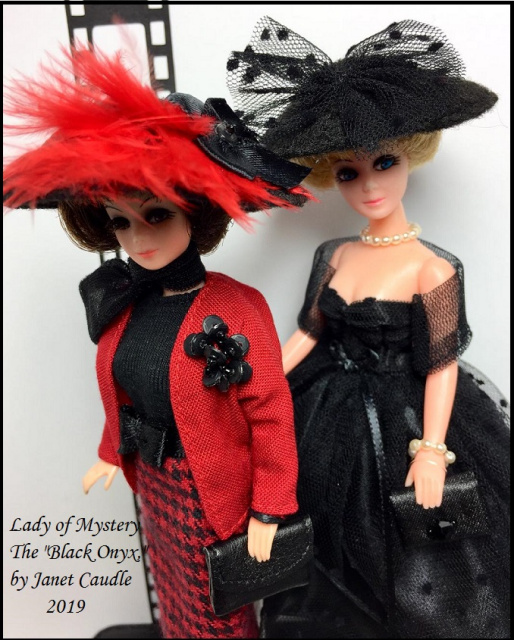 Meet Lady of Mystery & The Black Onyx by Janet Caudle.
These 2 new couture fashion sets will be available on Monday, March 18th at 9:00am Central Texas time.
You will be able to enter the show by clicking on the photo above at the time given above.
Please note at this time the photo is password protected. At 9am Central Texas time the password will be removed and you will than be able to enter the show.
Please know, I will do my best to make extra fashion sets if needed.
There are 30 of each fashion ready to ship.
Shipping date will be on Tuesday, March 19th.
Thank you all so much! Wishing you a fabulous week!
Good night my friends!! See you tomorrow! Lots of love! xoxoxo
____________________________________________________________________

Janet's One of a Kind dolls and custom fashions have no affiliation with any doll or toy manufacturing company. Copyright 1999-2019. Janet Caudle owner. This site is not to be copied, reproduced, used or taken without the express written permission of the owner. Barbie is a registered trademark of Mattel and Dawn is a registered trademark of Checkerboard Toys.